NAT – Single Ended Vollvertärker
Der neue NAT – Single Ended Vollverstärker mit 2 x 50 Watt sinus (Triodenleistung!) ist endlich da..
Dieser Triodenverstärker ist mit einem großen extra Netzteil aufgebaut und kann mit vielfach teureren Vorverstärker/Endverstärkerkombinationen mithalten.
Technische Daten:
Type Single Ended Tube Base Zero Global Feedback
Power 50 W @ 8 ohms
Frequency Response 10 to 60 kHz, -3 dB; 20Hz to 20kHz, +/-0,5dB
Noise 90 dB IHF reference to 1W
Gain 35 dB (X 55) Phase status: non-inverted (0 degree)
THD & N < 0.1 %
Input Impedance >15 kohms
Output Impedance <1.6 ohms (damping factor >10 reference to 16ohms load @zero feedback)
Stereo Separation >95 dB @ 10 kHz
Tube Complement 2 x 6N23P (E88CC) & 2 x GM70 per unit
Power Requirements 100VAC to 240VAC (50 to 60 Hz), max. 370 VA
Dimensions 19″ (483 mm) wide ´ 15.7″ (400 mm) deep ´ 10.2″ (260 mm) high
NET Weight (Control Unit) approx. 110 lbs (60 kg) unpacked
TOTAL Weight approx. 133 lbs (70kg) total with transport wooden box
Design Features:
single ended type – integrated amplifier
zero feedback design
triode direct-heated output type
50 W of pure class A
full dual mono construction
custom designed 1.000W encapsulated power transformer
full stabilisation for all amplifier stages
two tubes (NOS) for driver purposes
separate toroidal transformer for digital control
dot-matrix display (15 level of intensity with turn off light mode)
remote control made from solid block of aluminium
automatic bias
adaptive bias (to control dissipation of the output stage)
standby function
relay (silent type) attenuation network
all aluminium modulated chassis
teflon isolated connectors
Vorführbereit auch gegen unsere alte Vollverstärkerreferenz Audio Note Jinro.
Einführungspreis bis 31.7.2016 : 6.990,- Euro
NAT SE 1-classic 211-2016  Single Ended Monoblöcke
22 Watt single Ended Monoblöcke mit KR Audio 211 Triode.
Traumhafter Klang nicht nur für Hörner und andere Wirkungsgradstarke Lautsprecher.
Bei uns vorführbereit im Vergleich mit vielen anderen guten Verstärkern!
Technische Daten:
Type Single Ended Class "A" Triode
Power Output 22 Watts @ 1 kHz 40 ohms or 8 ohms taps
Frequency Response 5 Hz to 70 kHz
Input Impedance 100 kohms parallel with 300pF
Input Sensitivity 1 V RMS for 20 Watts Output @ zero feedback
Rise Time 5.0 microseconds
Noise 108 dB below rated output "A" weighted
Tube Complement 1 x KR Audio 211
Power Requirement 240 Volt.
Dimensions 300 mm wide x 520 mm deep x 260 mm high
NET Weight Pro Stück 25 kg netto, 35 kg verpackt in Holzkiste
Einführungspreis: 6.990,- Euro pro Paar, inklusive KR Audio 211 Röhren bis 30.7.2016

NAT Symetrical SE1
Himmel und Hölle
Hochspannung, Gefahr, Hitze, Gewicht, der Preis: Für diese Verstärker des serbischen
Großröhren-Spezialisten NAT gilt es, manche Unannehmlichkeiten in Kauf zu nehmen.
Und wofür das alles? Für das einzig Wahre: geradezu überirdischen Klang!
Test: Johannes Maier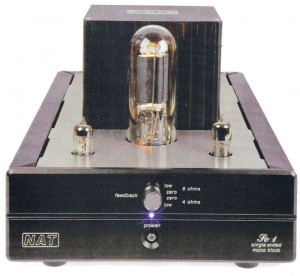 VALVE AMPLIFIER
NAT Sel MKII

No, this isn't Japanese exotica – it's a world-class, single-ended triode powerhouse from Serbia! If you've had your fill of 3006s, then here's a real he-man's amp Review: Ken Kessler Lab: Paul Miller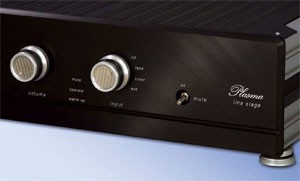 NAT SE1 , NAT Plasma
Yes, here comes wonder kid from ex-Yugoslavia again.
After all, considering better tubes, read this: especially expensive tubes. … lese mehr/ read more
Quelle: Fox Audio, www.foxaudio.nl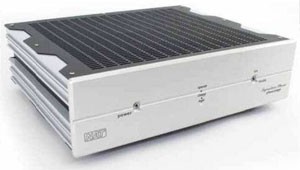 GFDS 31 • Valutare • NAT SIGNATURE
Difficult as the final product of forces of large and beautiful, mighty and powerful, extremely quiet and musically compelling. Preamplifier 'no compromise' is well priced compared to the … read more

Weitere Marken im Programm